Serial Killer Bill Bonin Could Have Been Stopped, 'Without Redemption' Shows How Justice System Failed So Many Times
May 25, 2023 Vonda3310 0 Comments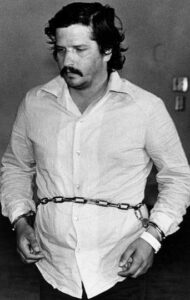 Los Angeles, CA—When writing and researching a historical biography about Freeway Killer Bill Bonin, who killed 22 boys in ten months from August 4, 1979 to June 2, 1980, the authors were struck by how many times the California criminal justice system failed. Without Redemption: Creation & Deeds of Freeway Killer Bill Bonin, His Five Accomplices & How One Who Escaped Justice carefully chronicles the nature and manner of those failings, systemic and bureaucratic.
With over 40 boxes of investigative documents, co-authors Vonda Pelto, Ph.D., a Clinical Psychologist who had sessions with Bonin and two of his accomplices, and Michael B. Butler were able show how a clever high school dropout manipulated lawyers, judges, psychiatrists, social workers, parole and probation officers and many others.
Nine years in mental hospitals and prisons, due to multiple arrests for violent sexual assaults, honed Bonin's inherently brilliant manipulative skills. With his homicidal psychotic tendencies still under wraps, new laws and the system's inability to hold him longer unleashed William Bonin on an unsuspecting Southern California.   
Then, during the murder spree, he was in custody three times and should have been held on probation violations alone. Bureaucratic muddle, sloppy work and sheer luck allowed him to get out and kill again, again and again.
All of those small little events, which served up wholesale disaster, are revealed in Without Redemption, one of the most detailed serial killer historical biographies ever written.
Below the book trailer are a number of reviews mixed up with eight Kindle E-Gift Links ready for immediate redemption.
Here are Eight E-Gift Kindle Links for Without Redemption:
https://www.amazon.com/kindle/redeem/?t=GSG5F3RWGAQTNFB
https://www.amazon.com/kindle/redeem/?t=GSJ6XBH5ER86RTV
https://www.amazon.com/kindle/redeem/?t=GSPHTUDHTYJES3K
https://www.amazon.com/kindle/redeem/?t=GS7N2A9CRXUF4P5
https://www.amazon.com/kindle/redeem/?t=GSDUWQSEWPMGGK2
https://www.amazon.com/kindle/redeem/?t=GS4GPTFUUC4PXF2
https://www.amazon.com/kindle/redeem/?t=GSMHYET45NQBEF5