Hot Selling Serial Killer Bio 'Without Redemption' E-Book Now Available at Kobo.com, Popular in UK, Australia & Across Europe
June 16, 2023 Vonda3310 0 Comments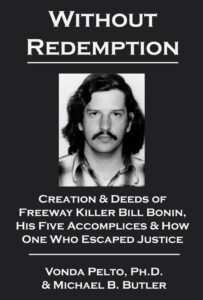 Los Angeles, CA—One of the most detailed historical serial killers biographies ever written, Without Redemption: Creation & Deeds of Freeway Killer Bill Bonin, His Five Accomplices & How One Who Escaped Justice is now available in E-Book format on Kobo. Having sold copies across the U.S. and around the world on Amazon, Without Redemption can now be purchased on Kobo for $3.99 at https://www.kobo.com/us/en/ebook/without-redemption-7. Able to be read on a web browser or the excellent Kobo App, one can also sign up for Kobo Plus and have access to thousands of first-rate titles.
Few serial killer biographies match the level of documentation co-authors Vonda Pelto, Ph.D., who knew Bonin from her work at L.A. Men's Central Jail, and Michael B. Butler had to create such an in-depth story of the notorious killer. Pelto, a Clinical Psychologist brought in to keep high profile inmates emotionally stable, also had sessions with two of Bonin's accomplices, Miley & Munro, and other serial killers.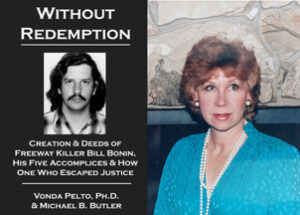 Bonin's hand-written jailhouse diaries, which covered many months leading up to this trial in November 1981, and confession murder stories gave the authors an inside view of Bonin's methods, traits, personality and brutality. The diaries, combined with over 40-boxes of investigative documents, resulted in a biography that solved two homicide mysteries and shed light on many aspects of the famous Bonin Freeway Killer murder cases.
One of the more fascinating episodes of Bonin's life was the nine years he spent in California mental hospitals and prisons. Following a series of assaults, just after returning from a combat tour in the Vietnam War, Bonin was arrested and committed to Atascadero State Mental Hospital. The story of him convincing the court he needs help, and getting committed, is where he begins a journey learning how to manipulate the California criminal justice system and reveals the cunning and wily serial killer in the making.
---