Amazon Reviews of 'Without Redemption' Serial Killer Bio Shows Wide Appeal, Sales Racked Up Across Europe & Australia/New Zealand
May 18, 2023 Vonda3310 0 Comments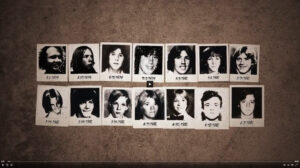 Los Angeles, CA—Reviews posted on Amazon of Without Redemption: Creation & Deeds of Freeway Killer Bill Bonin, His Five Accomplices & How One Who Escaped Justice show the book is appealing to wide audience. This has also been indicated by solid print and Kindle sales in the UK, France, Australia, Germany, New Zealand and Sweden.
What sets Without Redemption apart from other serial killer biographies is how much investigative material the authors had on hand. Not only did co-author Vonda Pelto's deal with Freeway Killer Bill Bonin at LA Men's Central Jail, but she was also gifted over 40 boxes of official investigative documents by a former detective. All this gave Pelto and Michael B. Butler the necessary information to create, after many years of intensive work, one of the most complete and detailed historical serial killer biographies ever written.
Below thare a number of reviews:
---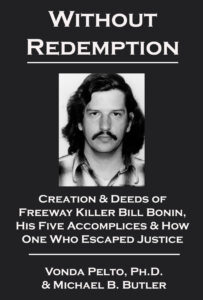 All the Makings of Compelling Serial Killer Movie or Mini-Series
Without Redemption sets itself apart from other serial killer bios with the sheer volume of factual detail, one which reads like historical biographies of famous leaders. Freeway Killer Bill Bonin's whole life is laid out and this allows the authors to carefully track his 30-year journey/descent into murderous depravity. I have worked on a number of productions about serial killers and murderers, and this book has all the elements for a compelling movie, mini-series or docudrama. 
First, you have Bonin's detailed diaries/written confessions which give an inside view of everything; Second, the co-author, Vonda Pelto, Ph.D., having ersatz counseling/confession sessions with three of the six Freeway Killers in jail; Third, reams of documentary evidence about Bonin's childhood, war service, years in mental hospitals and prisons followed by the months leading up to the murder spree. Next are Bonin's carefully written stories of the 22 killings all over Southern California, the journalists reporting on his activities and the detectives chasing him.
Then, after his arrest the story really gets juicy, and complex, as everyone jumps in the pool together to hash out the penultimate act. Surprises await around every corner as cases are getting built, deals negotiated and more suspects pursued. Part and parcel are scenes of political backstabbing, deception, lying and coverups, which is followed by Bonin's huge trial and the final curtain in this tragic drama.
Generous use of newspaper stories fills in the gaps and the whole book moves rapidly forward without too much lollygagging. 'Without Redemption' is as close to a complete serial killer historical biography that one might find. 
M.E.
---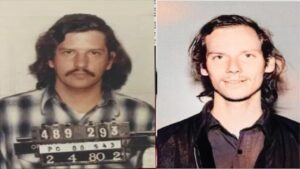 My LA Sheriff Homicide Detective Husband Would've Loved This Book
My husband was a homicide detective for the Los Angeles County Sheriff's for decades, starting up with the force shortly before Bonin started killing. He knew many of the detectives in this book and would have really liked reading it, so right up his alley I wish he could be here to check it out. Not only that we lived in Downey, a few short miles away from Bill Bonin, when all these murders happened. 
He used to tell me about the bureaucratic fights between LA Sheriff and LAPD, and that comes through loud and clear in 'Without Redemption.' And all those scenes at LA Men's Central Jail would have been so familiar because he served in that madhouse for years, pretty wild stuff. Actually, it gave me a small window into the world he existed in for so long, something he always tried to shield me from.
K.G.
---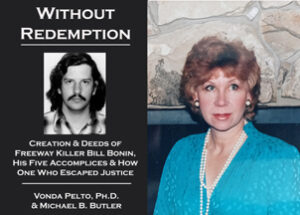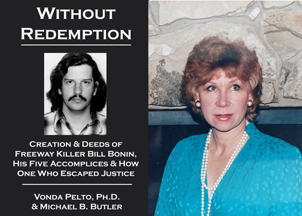 Paints the Whole Picture
Not much of Freeway Killer Bill Bonin's life, leading up to his first and most important conviction, is left out of this book.
An interesting section is the one after his arrest, where Bonin's jailhouse diaries are used to tell the inside story. It is fascinating because everyone, I mean everyone, is deceiving and lying to everyone else—homicide detectives from different agencies, prosecutors, witnesses, defense attorneys, press, politicians, district attorneys and, of course, the six Freeway Killer defendants. There are also humorous jailhouse stories that serve to break up the story.
Leading up to the disaster is like descending a slow staircase, and then there is the ten-month murder spree that is chronicled from many different perspectives.
Without Redemption' definitely deserves the moniker 'detailed historical biography.'
C.S.
---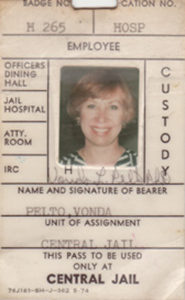 Co-Author Vonda Pelto is Actually a Player in This Serial Killer Bio
My surprise in this book was how the co-author, Clinical Psychologist Vonda Pelto, Ph.D., actually participated in the story told about the life of Freeway Killer Bill Bonin—she dealt with Bonin and two of his accomplices while working at Los Angeles Central Jail. Pelto had numerous sessions with all three, and other horrible serial killers, and had to listen to their ghastly stories, told in some ways to see her reactions and in other ways to relive their crimes. Her disgust is evident, but she hides it during discussions with Bonin, Miley and Munro, where they all talked about murders in detail. 
Aside from that 'Without Redemption' is interesting because it is the story of one person's slow march to becoming an unfeeling monster. It was scary how the killing took over his life, kind of like Gollum in 'Lord of the Rings,' it simply swallowed him up.
The authors really packed in the factual stories of Bonin's life, from birth all the way through months and months of day-to-day events after his arrest, when the system was gearing up and he was trying to make a deal to avoid the death penalty. This part of the book is when very public events are analyzed from inside and outside, and where big surprises pop up.
A thoroughly fascinating and engaging read.
D.R.
---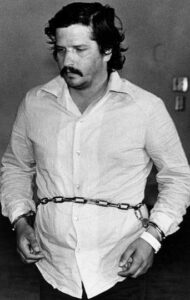 They really tell the full story of a serial killer, from beginning to the end!
Serial killer biographers often lack access to many important documents, but that can't be said of Without Redemption, which reveals for the first time how and why someone got away with double murder! In fact, the Freeway Killer Bill Bonin is the one who covered for his accomplice. One also learns that Bonin was in police custody on numerous occasions during the murder rampage. 
It's obvious the authors must have had boxes and boxes of material to write from—Bonin's childhood, adult years spent in mental hospitals and prisons, well before Bill Bonin started killing, are ably reconstructed in amazing detail. You can sense the disaster to come as story slowly unfolds.
Then the killing starts and Bonin's own written words and many different interviews, with homicide detectives and the co-author Vonda Pelto, Ph.D., give the reader a front row seat in the mind of the man who murdered 22 teenage boys, with five accomplices, in a short period of time. Taking place in 1979-80 in Los Angeles, the book paints of picture of how Bonin's actions created a firestorm among police, the public and the media.
Part three is a fascinating look at what happened after Bonin's arrest and how detectives rolled up the other killers and built their case against Bonin and his friends. It was a complicated ten-months, but the authors recreate it in fascinating detail, which includes using Bonin's jailhouse diaries and see how he was manipulating events while also being unable to control his fate.
A historical biography worthy of that term. 
B.B.
---
How a Serial Killer Gets to That Uncaring Place
Bill Bonin's 32-year journey to becoming a serial killer is laid out step by step in a way that highlights where and when his ultimate fate may have been derailed, but it was not to be. Terrific biography of the famous Freeway Killer Bill Bonin, one told from many perspectives as outside events impacted his life again and again.
Everything is placed in proper historical context as rapidly changing societal values swirled around the existence of this broken man, one who ripped a hole in so many families and communities. Authors deserve praise for getting so many small details correct, some that matter intensely.
You won't be disappointed in 'Without Redemption' at all. Can't wait for the movie!
G.A.
---
Thoroughly Impressive,
Facts, depth and chronologically accurate is a good way to describe this serial killer book, written in a way that moves quickly but always reminds the reader about key events and stays in a constant now with the infamous Freeway Killer Bill Bonin. 'Without Redemption' has many side story lines within the overall story of Bonin's life, which are all carefully placed in their proper historical context. For example, when describing Bonin sentence and time at Atascadero State Hospital, a mental institution, all the laws and treatment norms of 1969 are carefully explained and explored.
His crimes of murdering so many young boys are heinous, but there were many times when the ultimate tragedy might have been averted, which are pointed out by the authors. All through the book the question of nature versus nurture is ever present, quite fairly leaving the reader to draw their own conclusions. Bonin's diaries add layers of complexity to his personality and are full of fantastic info in the months after his arrest, when his five accomplices, in 11 of the 22 murders, were arrested and offered various deals for testimony. That is a great section of the book. 
Solid biography that is definitely worth the price.
E.B.
---