March 24, 1980: A Day of Coincidence & Consequence
for Bill Bonin & the Freeway Killer Murder Cases
The authors of Without Redemption, through recently uncovered documents, were able to discern how a string of coincidences, on one-day during Bonin's ten-month murder spree, dramatically altered later events and allowed someone to get away with double-murder.
---
Click the Image to Enlarge the Flowchart Below or Download the Timeline PDF
---
Unlocking the reasons why March 24, 1980 is a key date in the Bill Bonin Freeway Killer story was an arduous task, and unexpected bonus, within the complicated job of creating an amazingly detailed historical biography, Without Redemption. The events chronicled in the chart below constitute a small snapshot of a day when the paths of four key people crossed and later created a tangled and twisted web of causation and confusion. By this time, Bonin had been killing for eight-months and had claimed 16 victims, but detectives were nowhere near solving the murders.  

In order to truly decipher and unlock the true nature of what happened on March 24, 1980, hundreds of hours were spent going through official investigative documents, Bonin's private diaries/confessions, court testimony, interviews, news stories and more. However, it was not until the book was finished that the authors realized the true importance of those events.  
   
BOTTOM LINE

—

THAT DAY DRAMATICALLY CHANGED EVERTHING TO FOLLOW, SAVED AN UNTOLD NUMBER OF LIVES, ALLOWED SOMEONE TO ESCAPE JUSTICE AND CREATED A RAFT OF FASCINATING SIDE STORIES AND 'WHAT IF' SCENARIOS. 
---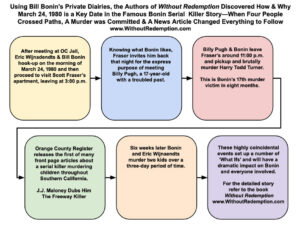 ---